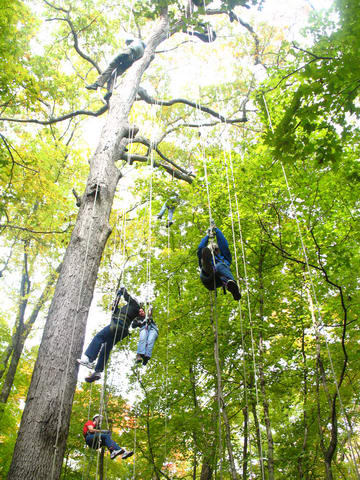 Tree Climbing Event


Tree climbing is a great way to have fun while connecting to the natural world. Group climbs are super fun for birthday parties, corporate team building, rites of passage events, girl's day out, or family events. In fact we can't think of any reason why a group wouldn't want to spend some time hanging out in a tree. It's that much fun!!!

Typically the event starts with a foundation activity that the group can apply when they are in the tree. The predetermined focus might be team building, celebration, basic knot tying, or tree biology. Once the group is feeling confident about their new skills or challenge the group begins to transition into the fun and excitement of applying their new knowledge as they learn about the gear and climbing techniques to take to the trees.

The group tree climbing experience is usually 2-3 hours and can accommodate up to 15 participants. For larger groups we suggest two or more rotations with the possibility of Adventure Tree facilitating ground activities for alternating groups. Each rotation requires approximately 2 hours.


---

If you have a tree in mind that you would like to use for tree climbing, Adventure Tree can visit and assess the tree. If the tree is appropriate for climbing, then Adventure Tree will come to you. Don't despair if you don't have a tree available, Adventure Tree has several trees within 20 minutes of downtown that can be used for tree climbing group events.

Contact Guy at Adventure Tree to discuss the opportunities available for climbers ages 8 - 108. Younger ages may safely climb, however their cognitive development may limit how quickly they learn the skills so extra time may be required. We look forward to working with your group.